My grandmother was brought to Oklahoma in a covered wagon with her siblings. She and her father both taught in one room schoolhouses. Only a pot bellied stove broke the winter chill. Hardship was a way of life — obstacles were to be overcome.

Exploring my early Western heritage through painting from old photos, I experienced ancestral smiles from heaven.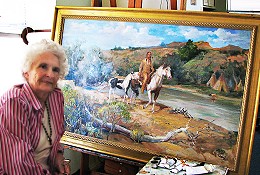 Call 619-459-3603
We regret to inform you that artist Marilyn Todd Daniels has passed away, and sales of her art are temporarily suspended.

If you wish to contact the estate for questions or inquiries, please call Dana Todd at 619-459-3603.
Explore ORIGINAL Art for Sale
Available LIMITED EDITION Prints