Inspirational & Religious Art
When God clearly spoke to me back in 1975 about returning His art back to Him, three questions arose. What is art? What is God's art? and Where did it go?

What a journey of faith it's been to find Christ in a secular art world—the answers weren't in focusing on biblical costumes or theological constructs, but on LOVE itself. These prophetic paintings stem from visions, dreams and actual places in Israel. Enjoy.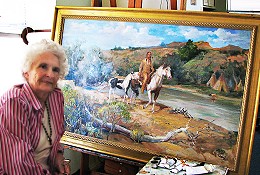 Call 619-459-3603
We regret to inform you that artist Marilyn Todd Daniels has passed away, and sales of her art are temporarily suspended.

If you wish to contact the estate for questions or inquiries, please call Dana Todd at 619-459-3603.
Explore ORIGINAL Art for Sale
Available LIMITED EDITION Prints