Good equine art presents the ultimate challenge — the artist must skillfully merge light and color, anatomical construction and the personality of the horse, all within a complementary setting.

My love affair with horses began at the age of eight. If you're a horse person, you understand why I chased them for decades across the nation and abroad to shows, races, or anything else related to horses.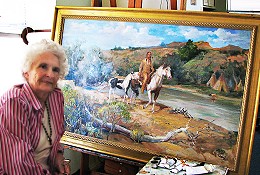 Call 619-459-3603
We regret to inform you that artist Marilyn Todd Daniels has passed away, and sales of her art are temporarily suspended.

If you wish to contact the estate for questions or inquiries, please call Dana Todd at 619-459-3603.
Explore ORIGINAL Art for Sale
Available LIMITED EDITION Prints